Announcement


Corporate Gifts, Door Gifts and Souvenirs
In the past 28 years, we have gone through many crises and the recent Covid pandemic is one of the worst that every one experienced.
However, it does gives us time to reflect our priorities. Age is catching up with us and we intend to take things at a slower pace.
We are happy with our current pool of customers, supporters and suppliers, for which we thank them profoundly. 
We will be taking a breather from the 1st November 2022 till 31st December 2022. During this period, we will not be responding to enquiries from new customers. Regular customers will continue to deal directly with our salesperson directly. 
We look forward to your kind understanding and wish all safe and healthy in these tumultuous period.
With Warm Regards
Memories Souvenirs Pte Ltd
Select the items by Categories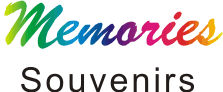 Thank you for visiting our corporate gifts website.
Our company started business as WatchMakers in 1994. As our business grew, we established Memories Souvenirs Pte Ltd in the year 2000. We have since expanded our selection of corporate gifts, door gifts and souvenirs. Please click on the categories to view and select your items . If you require any gifts that are not listed here yet, please do email directly to our Sales Department